Welcome to championcords.com
Champion Cords are designed by Sheila Thelen (President of: Champion Cords, Champion Skating Harness & Champion Developemental Seminars), to help skaters learn: Alignment, Position, Muscle Memory, Awareness, and Technique. This Patented System is endorsed by Olympic/World/National Coaches WORLDWIDE. ALL LEVELS of skaters have seen results using this ingenious product. We highly recommend, TWO Champion Cords (1 for each side of the body) & DVD to get started!

Use Champion Cords to learn:
Singles, Doubles, Triples, Spirals, Camels, Laybacks, Moves In The Field, Flying Camels, Posture, Landings, Awareness and SO MUCH MORE!
Our phone number is:
651-257-1004
. Bigger offices, bigger spaces, bigger commitment to figure skaters around the world!
Call our offices for Bulk Orders & Fundraising Pricing!
Champion Cords Website Special! 1 Free Proper Usage DVD - with Every Champion Cord Order!

Why we LOVE the "S-Hook" Champion Cord:
This is a slightly larger clip - about 2 inches across, this is easier to get on the skate. (We can leave our mittens on - and still
get this clip attached to the laces.)

Why we LOVE the "Skate For Hope - Breast Cancer Research" Champion Cord:
This is a slightly larger clip - about 2.75 inches across, this is easy to get on the skate. (50% OF ALL SALES goes directly to Skate For Hope Breast Cancer Research!) Become a great skater - and SAVE A LIFE!
Why we LOVE the Proper Usage DVD:
This is a GREAT teaching tool for skaters & coaches! It shows: How to attach to your skate (in depth), jumps (singles/doubles/triples with
young AND National Level skaters), spins, spirals, MIF, split jumps, power classes, safety, etc. VERY GOOD DVD!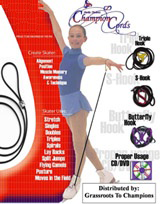 We highly suggest buying TWO Champion Cords - if this is your first purchase. (You'll need two cords for: Jumps, Spins, Stroking, Moves
In The Field, Spirals, and more.) This will save you a second shipping cost!
Proud Partners of Audrey Weisiger's Grassroots To Champions Seminars! Visit them at:
www.GrassrootsToChampions.com
TO ORDER CHAMPION CORDS USE THE SECTION ON THE LEFT LABELED: Products
NEW!!!!!!!!